It starts with me hiding from the authorities in a hotel bedroom. By "the authorities," I mean my belligerent children and exasperated wife. We were in Hawaii in the summer of 2019 and on vacation. Near the end of a long afternoon of sun, I absconded to some version of isolation with a plea, "Daddy's taking a nap. Please don't bother me for half an hour." So. Those guys Larry and Sergei, who run the googles and the youtubes, they know me too well. I flipped idly through some videos, and then the algorithm was like, "Tom's in Hawaii, he likes adventures and stuff. Let's show him some sailing videos."
"Alone Together" A revelation! Not Chet Baker, but of course Christian Williams. Sailing alone from California to Hawaii. What fun he makes it seem! How composed, how straightforward. Reading classics, making cocktails. I hardly have the patience to make a hot breakfast at home. But there he is doing it at sea. The sophisticated sailing uncle I never had. There a couple of other examples.
This endlessly optimistic kid Sam Holmes. A twenty-three foot sailboat? From California to Hawaii? Is this guy insane? (After further research, he's not insane, he's a clever guy, and apparently very good at fixing things.) A tiny boat, basically no amenities. He loves it, never stops smiling.
Some time later when I found another interesting example of the sub-genre. If Chris made it look debonair and effortless, and Sam made it look fun and attainable, Anthony Mikel sets the bar even lower. He sets off from San Diego in an elderly Catalina 27. He brings a cat. The food gets sprayed across the cabin. His tiller pilot breaks. He catches fish, and after a particularly challenging day, he closes it out, "I'm going to go smoke some motherfuckin' weed!"
Hmmmm. These guys can do it. I remember how to sail. I bet my boys will enjoy it if our whole family sails some. Let's see what happens.
When we returned home, I went boat shopping. We owned half of a trailered 14 or 15 foot boat when I was growing up. A Catalina or a Coronado, or something like that. My father's business partner was the sailor, but we had a barn, and kept it for him. I remember going out once with my dad and my brother to set it up at Folsom Lake in Northern California. We (my father) had to back the trailer down a long ramp to put it in the water and he really didn't enjoy that. So, naturally, I thought the right thing to do was to buy the same kind of a boat to "get back into sailing."
I went looking for a Coronado 15 on Craigslist. Sure enough, one turned up in a week or two. It was across the bay in Oakland, and I drove over to look at it. It seemed rough. Dirty. Seldom-used. But the guy selling it was really nice and he explained how to rig it, so I felt obligated. I paid his full price (savvy negotiator). I just wanted a toy to play with and have fun with the kids.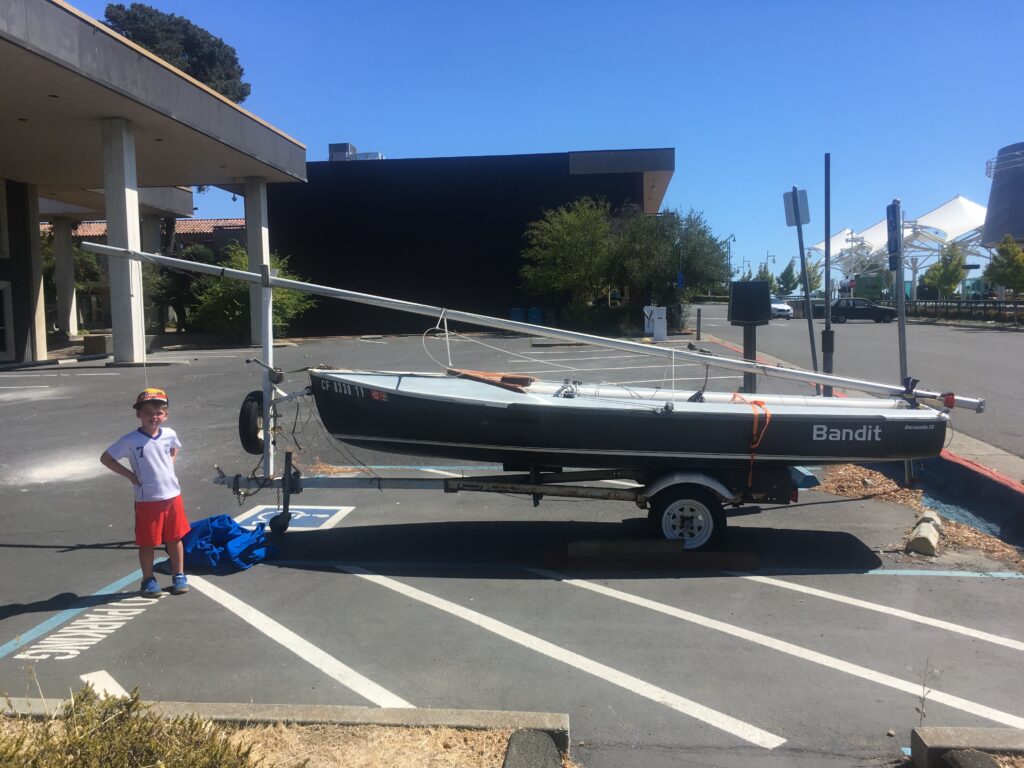 I do work in Vallejo, California, which is a city at the north end of the San Francisco bay located across the Napa River from the former Naval Base at Mare Island. The city has a free municipal boat ramp and I was able to put the boat in and out at will. The boat was an '83 and the hokey rusting trailer it came on was a liability. I spent a lot of time cleaning up, repainting and rebuilding the trailer. I realize now what an accurate representation of boat ownership was. The hull of the C15 needed compounding and waxing. I learned about wool wheels and 3M products.
I took the boat out a couple of times in Vallejo. It's difficult to step the mast on one's own, but fortunately an intoxicated homeless man helped me do it a couple of times. It's designed to be a fleet, planing, 2 person racing dinghy. In the effective delta of the Napa river, I was in about 2-6 feet of water over terrible foul mud, holding on with a fixed headsail and a large main over a folding centerboard. It's a handful for one person in more than 8 knots of wind and tippy as the devil.
After some first-hand experience I realized that my wife would never be terribly enthusiastic about a boat that both of us and our three boys could not enjoy simultaneously. I think, under the right circumstances the three boys and I could have a ball. But 5 would be too many. I considered my options. Family sailing seems fun. But, when I'm honest, what I would really like to do is to sail to Hawaii. So what's the next step, beyond abandoning the Coronado 15 project?
Classes. I knew nothing about operating a keelboat. In my early career I worked at a hedge fund where my boss, who raced a J105, said, "the bigger they are, the easier they are to sail." I wondered about how true that was. (I've come to believe that he is correct, under most circumstances).
We live in San Francisco, and I found several sailing schools nearby. There are really two tracks one can pursue for "formal" introductory educations – ASA, (The American Sailing Association) and US Sailing. I didn't really understand the distinctions between the programs at the time I was signing up, but I chose an ASA school in Sausalito called 'Modern Sailing.'
The goal of most of these programs is to give people the skills to get out on the water, particularly to get them renting and/or chartering boats. I took a five day 9-5pm course combining ASA 101 and 103, offering an introduction to basic keelboat sailing and basic coastal cruising. It was good. The material seems relevant. I had two different instructors, whom I would rate reasonably well. I have a background in Boy Scouts and the knots were easy. Sailing tactics are pretty close to the same in little and big boats – differentiated by whether one needs a big winch to accomplish a task. It wasn't that hard, and it was a lot of fun. We sailed Catalina 30's, a C&C 31, and something else I don't recall. All very similar operation with a wheel helm, diesel motor, fin keel.
The only difficult part of the course that presented a technique challenge for me was docking/parking. Snapping a 90 degree turn into a berth is a little tricky, until you have done it 3-4 times and then it seems pretty easy.
So, I finished my classes. I felt like I had some basics down. I considered continuing my education through more classes. But they wanted me to get 6 days on the water before I took the next level of classes. And they want to rent you a boat for $200 a day, and you're not supposed to go out by yourself. My kids are in school, my friends have real jobs, and I want to practice sailing by myself anyway. The time had finally arrived to stop being in for a dime and to start being in for a dollar. I'm still planning to take more classes – just after gaining experience in my own boat.
Anthony Mikel sailed a Catalina 27 to Hawaii. I only knew about sailboats what I learned in my classes, but it seemed like Catalinas are kind of, well, like a Hyundai? Everywhere, affordable, maybe not that high-quality? The Sam Holmes guy had sailed a Ranger 23. I didn't want another little boat. I wanted a boat big enough that I could take the whole family out on if the Hawaii dream doesn't pan out (or even if it does). So, Christian Williams's choice. Christian Williams who speaks with authority on a wide range of sailing topics with dignity and without arrogance. What a rare thing to find these days. He chose an Ericson 32 for his first trip. That's what I needed.
It was only later I came to understand that Christian was maybe going to buy a Grand Banks trawler-rich-guy-fishing boat, or maybe build an airplane in his garage. But whatever – he sailed the '79 Fastnet and he chose an Ericson 32 to go to Hawaii. It's probably not a terrible choice. Next, a bit on how I bought my boat.